Rescue your customers from
Anxiety
Connect Customers and Providers in Critical Moments
Talk to Riptide Today
With Riptide, brands loop in their service providers to communicate with and help customers.
Help drivers who need repairs connect with roadside service, body shops, and mechanics
Help homeowners who are buying, building, or fixing connect with agents, architects, designers, and contractors
Help policyholders who are shopping, qualifying, or claiming connect with agents, underwriters, and adjusters
Help customers who are ordering, receiving, or returning connect with merchants, customer service, and delivery drivers
Help residents who need municipal services connect with trash pickup, police, and other public works
Help retail customers who are borrowing or servicing connect with third-party loan providers
Connect Customers and Providers with Conversations
Throw your customers a
conversational lifeline
Reach every customer instantly with text messages sent straight to their phone
Team up with your providers to rescue your customer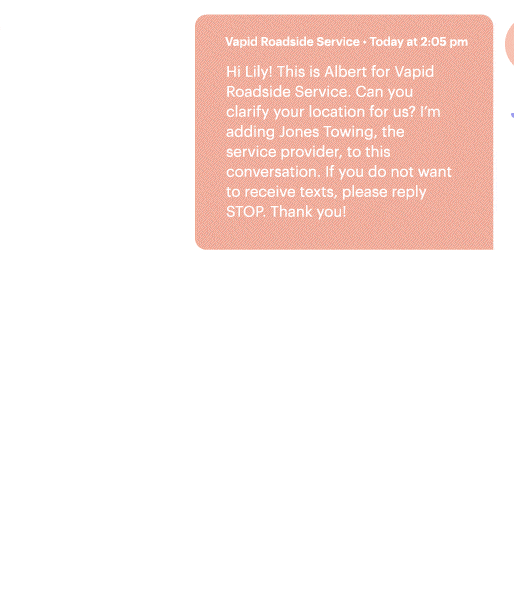 Make 3-Way Conversations Easy
Empower your team to coordinate three-way conversations in a snap
Engage any service provider with just a text
Start saving customers today
Talk to Riptide Today
Connect Millions of Customers to Your Service Network
Automate to scale to your needs
Integrate Riptide with your CRM
Rescue millions of customers without lifting a finger
Talk to Riptide Today
See What's Happening with Every Customer
Uncover data you've never seen on customers, products, and providers
Understand the customer experience with conversational analytics
Improve everything, from customer satisfaction to operations
Riptide Helps You Create Customers for Life
Increase customer satisfaction
Be there for your customers, with your providers, when customers most need help.
Build customer loyalty with each rescue.
Streamline service delivery
Standardize engagements across your service network.
Eliminate friction to respond faster.
Avoid wasted effort. Save hours every day.
Deepen customer engagement
Respond to customer issues in real-time.
Understand and improve how your customers experience your provider network.
Mine conversations to improve your products and services.
Talk to Riptide Today
Start your own conversation with Riptide to learn more about connecting your service networks and your customers. Complete the form below to have a member of our team reach out to you.